Co-hosted by Organizing Committee of Arc Cup International Welding Competition (OC ARCIWC) and China Machinery Industry Federation, organized by Beijing ARC Xinxing Science & Technology Co., Ltd., 2016 (4th) Beijing "Arc Cup" International Welding Competition has completed all events after four days' competition, and successfully closed on June 22nd in Gu'an of Hebei province.

Total 304 competitors from 59 delegations participated in this welding competition, including delegations of 24 Countries coming from Belarus, Bulgaria, Germany, Kazakhstan, Ghana, Czech Republic, Romania, Mongolia, Vietnam, South Africa, Portugal, Serbia, Ukraine, India, Russia NAKS, Russia WorldSkills, South Korea, Thailand, Singapore, etc., 17 delegations from China state-owned enterprises, and 15 vocational colleges. More than 700 guests from home and abroad were presented the related activities, including closing ceremony, co-created and witnessed the glory of "Arc Cup".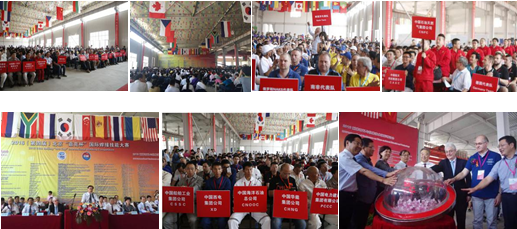 CRRC and Romania delegation (Europe Welding Fedeation, EWF delegation for short) won team gold medal; China National Offshore Oil Corporation (CNOOC), Power Construction Corporation of China (PCCC), China National Petroleum Corporation (CNPC), Mongolia delegation, Kazakhstan delegation and Germany delegation won team silver medal; FAW Group, China Energy Engineering Corporation Limited (CEEGC), China State Shipbuilding Corporation (CSSC), China Huaneng Group (CHNG), China Datang Corporation (CDT), China Aerospace Science and Technology Corporation (CASC), Ukraine delegation, Belarus delegation, Singapore delegation, Serbia delegation, Thailand delegation, Korea delegation won team bronze medal. The Organizing Committee awarded the certificates and cups to the winners.

Based on different ages of competitors, the competition setted up individual gold, silver and bronze medal of student group, youth group, adult group, to award the first, second and third place winner of 6 items, including robot welding, 111/SMAW, 135/GMAW, 141/GTAW, 311/OFW, and finished-product welding. Distinguished leaders and guests awarded certificates, medals and bonuses to the prize winners. The Organizing Committee would award Outstanding Prize certificates to the competitors whose individual result ranked within 30% of total competitors, and will apply to the SASAC to award honorary title of Expert of SOEs".

Newly added Individual Award of welding performance and thesis were the new awards of the competition.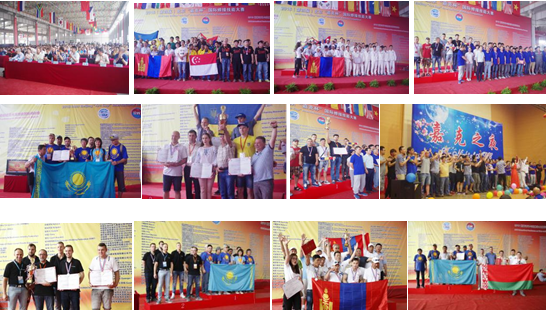 The "Arc Cup" Competition had won the wide concern from all walks of life.

The guests who were presented the opening ceremony included Wang Ruixiang, President of China Machinery Industry Federation, former Vice Director of SASAC and National Committee of the Political Consultative Conference; Pan Jiluan, Academician of Chinese Academy of Sciences and Professor of Tsinghua University; Xu Binshi, Academician of Chinese Academy of Engineering; Zhang LihongChairman of Hebei Province Promotion of International Trade; Zhang TaoDeputy Director of Hebei Science & Technology Committee; Jia Yongqing Deputy Mayor of Langfang Municipal of Hebei Province; Mao Xiquan, Investigator of Mass Work Bureau of State-owned Assets Supervision and Administration Commission (SASAC); Long Yingbin, President of Foreign Affairs Bureau of State-owned Assets Supervision and Administration Commission (SASAC); Yang Peisu, Deputy County Secretary of Gu'an of Hebei Province; Zeng Xiaodong, Director of Internationalization Business of Zhongguancun Administration Committee; Honorary President of WTIA; Chris Smallbone, Deputy Chairman of International Institute of Welding (IIW), etc.

Lincoln Electric (Shanghai) Co., Ltd. POWERCHINA SPEM Company Ltd. Panasonic Welding Systems(TangShan) Co., Ltd. TECMEN ELECTRONICS CO., LTD,BOTOU QIANJIN PRECISION MEASURING MACHINERY CO.,LTD, Sorex Welding Co., Ltd. Beijing Luochuang Science & Technology Co., Ltd. Beijing Unipow Welding Technology Co., Ltd. were the sponsored units of the Competition.

During the Competition, competitors showed their skills, crafts and unique technique as well as presented us a splendid competition with the international standard. The highlighted features of the Competition could be concluded into the following points.

Firstly, Arc Cup Was Known as the " Welding World Cup".

The majority of 304 contestants from 24 countries, 59 teams at home and abroad were top welders in Europe and Asia, and most of them had won the First Place in their national welding competition, which meant "Welding National Competition Winners" within outstanding skills. Particularly worth mentioning was the Romanian players who were the champion of EWF Welding Competition, on behalf of the other 24 European Welding Federation members participating in the "Arc Cup" Competition. So the 24 countries' competitors actually represented 48 countries. The competition was seen as a high level and standard international event.




The results showed that compared with international counterparts, Chinese welders' skill was relatively high, This was consistent with the previous results of "Arc Cup" Competition and other abroad international competition. The 17 participating central enterprises covered almost the whole fundamental industrial system related to welding in China, such as aerospace, aviation, energy, traffic, marine, and so on. Each enterprise group selected their top players to take part in "Arc Cup" Competition. It could be said that their skill level represented the general level of China's welding industries, and also the overall level of China's manufacturing industries.

Secondly, Fully Supported by International Institute of Welding (IIW)



IIW has always been a firm supporter of welding skills competition, IIW Vice Chairman Mr. Chris Smallbone spoke at the opening ceremony, and pointed out that "Arc Cup" International Welding Competition provided a platform for the world professional welders to show their advanced welding skills. IIW would fully support Arc Cup, and hoped it become the "World Arc Cup"!

Mr. Chris Smallbone personally awarded the IIW metal commemorative plaque to the Organizing Committee, which proved that Arc Cup is the associated event of IIW and achieved high recognition and strong support by the highest international welding academic organization. All the certificates of "Arc Cup" Competition for the competitors were with IIW logo and inscription, which meant these certificates were recognized not only in the 59 member countries of IIW, but also around the world. And this greatly enhanced the authority of "Arc Cup" Competition.

Thirdly, "Arc Cup" Competition is Worthy of Appreciation

The welding performance project provided a platform to competitors to fully show themselves and demonstrate their special welding skills in special conditions or within special materials, such as underwater welding, pressured welding, non-ferrous metal, and rare metal material welding, etc., which were all the unique skills and techniques of welding masters. This not only widened the welders' horizon, but also encouraged them to practice more, overcome technical problems, and climb the technology peaks. In addition, the homework of all delegations were also much interesting and enriched the competition.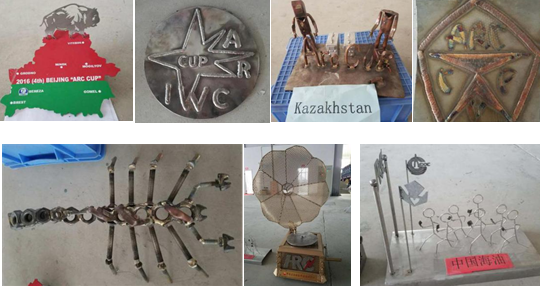 Fourthly, Welding Quality was Improved Comprehensively and Robot Welding Required Further Development

All competitors gave full play to their wisdom and perfect welding skills, so the welding quality of many test-pieces reached international first-class standard. As the chief referee stated, the appearance and x-ray detection results were improved a lot than ever, especially for x-ray detection, which indicated that internal quality of 48% test-pieces reached the first class defect-free standard (full score) and this was also the best result compared with previous competitions.

But the outcome of robot welding competition showed the shortcomings of our overall level of robot welding. Although this was the third robot welding competition for "Arc Cup" International Welding Competition, we had to admit that the robot welding application just started in China and was far less extensive compared with overseas countries. So the robot welding competition was difficult for domestic competitors. And the final scores also differed a lot from 90 scores, tens of scores to zero. Only 10 competitors reached the basic level. In this point, we still required to develop robot welding, automation welding as well as intelligent welding. And we sincerely hoped "Arc Cup" International Welding Competition would do play a leading role.



Fifthly, International Standards Referees, Accurate and Objective Evaluations and More Comprehensive Skills Inspection

The evaluation of "Arc Cup" Competition was based on international standards and regulations. Meanwhile, we invited international referee to serve as the Deputy Referee. There were total 752 weldments referring to 111/SMAW, 141/GTAW, 135/GMAW, 311/OFW, finished-product welding and robot welding. For the pipe butt joint and plate butt joint of 111/SMAW and 135/GMAW, the appearance evaluation involved in the latest research "Welding Automatic Detector" to do the automatic detection on some items, such as welding heights, height difference, undercut, etc., which guaranteed the timeliness and objectivity of the evaluation, and reduced the working strength of referees. This was a big step forward of welding competition assessment.





As to examination setting, the competition projects of specified welding processes were randomly selected from 23 projects, which required skills comprehensive development welders. Especially for finished-product welding, one welder was required to finish the weldment within four different welding processes 111/SMAW, 135/GMAW, 141/GTAW and 136/FCAW. Only the competitors mastered the four welding processes well, they can achieved the best scores. Therefore, this was a comprehensive and high-level inspection on the competitors' skills.

Sixthly, Profound Significance on Improving Welding Skills

Welding is a basic manufacturing process, but highlights the national manufacturing level. For example, without perfect welding skill, the rockets will not fly to the sky, the spacecraft will not land on the moon, the high-speed rail network will not become a reality, and the aircraft carrier will not cruise in the ocean. With the development of digital manufacturing, intelligent manufacturing, and green manufacturing technology, the supporting role of corresponding fundamental technology, craft, components and material becomes more and more prominent.

As the overall manufacturing automation level is not high in China, the welding quality mainly depends on the welding skills of millions of welders and the guide of national craftsmen and welding masters. The significance of "Arc Cup" Competition is to create an international competition platform for several millions of welders, urge the central state enterprises to train their welders, as well as improve the welding efficiency and quality. Cultivating professional skilled personnels with higher professional quality, exquisite craft had been the national and industrial strategy. These selected "Technic Expert of SOEs" and "Youth Position Experts of SOEs" through the competitions have been or are becoming the technical backbones and leaders of enterprises.

Starting from 2010, "Arc Cup" Competition has been successfully held for four times. And the "Arc Cup" Competition has become more and more large-scaled, better and attractive. For example, 2016 (4th) Beijing "Arc Cup" International Welding Competition attracted the participation of 15 secondary or higher vocational schools, and more vocational schools visited the competition. Therefore, the Competition specially set up students group award. The secondary and higher vocational students are the reserve force of manufacturing welders. The promotion of their teaching and training level is related to the future of China manufacturer. Within the "Arc Cup" Competition platform, the vocational schools will cultivate, train and convey more high quality welding professionals to central state enterprises and main welding enterprises.

Finally, International Conference Provides Welding Technology Exchange Platform

As the effective supplement of "Arc Cup" Competition, the concurrent 2016 (2nd) International Conference on MANUTECH & SKILLS not only invited the leading scholars of welding field Academician Mr. Pan Jiluan, Academician Mr. Xu Binshi, Mr. Song Tianhu of Chinese Mechanical Engineering Society and other 20 famous scholars at home and abroad to give high level technical reports, but also invited some famous welding masters, such as Gao Fenglin, Wang Qifeng to introduce their welding experience, as well as build an exchange platform for the enterprises first-line technical personnel. This Conference was a welding technique and skill banquet that the Organizing Committee prepared for the competition participants and guests, which created an opportunity to promote the development of welding technology, and improve the overall quality and level of international welding personnel.



Each "Arc Cup" Competition has new ideas and welding process, such as the introduction of robot welding, unique welding skills performance, welding experience and technology exchange activity. Sincerely hoping "Arc Cup" Competition will be more international within more reasonable welding processes, scientific inspection methods, advanced automation levels, and new contents so as to provide a reference sample for China enterprises and vocational schools in the aspect of professionals intellectualization and diversification.